Kanon Toudou

Name

Kanon Toudou(藤堂花音)

Age in Aurora Dream

14

Birthplace

Kyoto, Japan

Birthday

1996

First Appearance in Aurora Dream


First Appearance in Dear My Future

Episode 20


Episode 1

Song

Don't Give Up

Affiliation

Serenon

Best Friend/s

Serena Jounouchi

Family

Hibiki Toudou

Voice Actor

Satomi Akesaka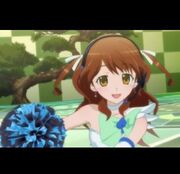 Kanon Toudou is a Prism Star and one of the members of Serenon, along with her best friend, Serena Jounouchi, the Prism Show duet, a member of the Serenon manzai duet as the "tsukkomi" (lit. jab) of the group, and Callings member Hibiki's younger sister. She is quite obsessed with her brother, not letting any woman get near him. This is exactly why she has such a problem with Rizumu, even secretly following Rizumu and Hibiki back to her home with Serena to stop Hibiki from getting close to Rizumu. She also ripped open a letter Rizumu wrote to him right in front of him and read it. Rizumu and Kanon, obviously, bump heads a lot.
Ad blocker interference detected!
Wikia is a free-to-use site that makes money from advertising. We have a modified experience for viewers using ad blockers

Wikia is not accessible if you've made further modifications. Remove the custom ad blocker rule(s) and the page will load as expected.